Yesterday we had our first snow of 2012 and of our winter, actually. It's been a very nice winter so far but we finally got some snow. I rushed home from lunch with Chris (we went to Super Pho in Herndon) and got Casper dressed to play. Yes, I realize he didn't have any gloves on, he outgrew his from last winter and I haven't bought him new ones yet. I will today, though.
After dinner, Chris took Casper out to one of the elementary schools that has a huge hill and they went sledding and had snow ball fights. I didn't get to go since someone had to watch little baby Owen (we had a good time at home, too, though- lots of giggles and coos) but I bet I could have taken some great pictures. Next time, maybe!
We actually ended up with a few inches of snow, it kept snowing from lunchtime until dinner, I think. it's has mostly melted already though. Here's some pictures from our deck of the woods behind the house I took right before dinner (which was Italian Wedding Soup, perfect for a chilly day).
Today, we are linking up for
Trendy Toddler Tuesday
at Mummy's Busy World. You can click on the badge below to go right over there and see all the Trendy Toddlers.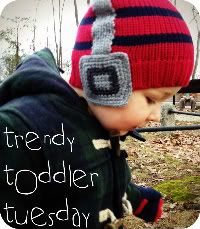 Casper is wearing his "cozy" hat, which happens to be his favorite, an awesome jacket from The Children's Place, lined pants from target, and Swiss Army hiking shoes also from Target.
I love this coat. It has a fleece that can be zippered into the coat for more warmth or he can just wear the coat or fleece separately, depending on the weather. The pants are great, too. We have two pairs, one in black and one in brown. They are a khaki-type material lined with a thin and very soft fabric. They seem to keep him warm and protected from the wind well. The shoes are great, too. he actually is about to outgrow these and I went to Target yesterday to get a new pair but they don't have his size anymore.
And here are some fat baby shots to brighten your day!! This is how Owen and I spent our time together while the two older boys were out sledding.